These resources are valuable components of my writing toolbox.
Disclosure: This site includes affiliate links to recommended books on Amazon, as well as tools and service providers I find essential. Being part of any affiliate program does not affect my review or opinion of those books, tools, or services. If you choose to purchase or subscribe after clicking on one of the affiliate links (*) on this page I'll receive a small fee. Thank you!
All about writing and writers and the joy and pain
of the journey to publication.
Invaluable books for writers *
Gurus to follow online
The self-styled "Mad Professor of Writing" provides in-depth writing tips and examples of how to make them work.  Randy Ingermanson created the Snowflake Method of writing.
Author, screenwriter, mentor to highly successful authors.  Check out his website and while you're there, sign up to receive David's in-depth writing tips by email.
Subscribe to Hope's mailing list to receive weekly news about publishers looking for manuscripts, lists of writing contests, along with other industry news.  Oh, and read Hope's books if you want to see how it's done.
Help When You Need It
You really don't have to do it all by yourself.  These wheels have already been invented.
Take them for a spin.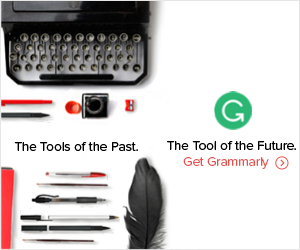 When you forget the rules, can't remember how to spell, or want a professional touch on your words.  Let this automated system look for and correct 250+ common writing errors.  Use Grammarly for that extra advantage.
Whether you're looking for resources to learn how to self-publish, templates for book proposals, to format the interior of books, create book covers, launch a book, or compile a media kit, you'll find it here.  Joel is constantly creating new tools to help writers at every stage of their careers.
Click here to visit Book Design Templates
I like the power to add to and change my own website, but there are times I have no idea how to do something I want in WordPress.  Such as testing updates to the software, doing backups and storing them, and fixing things that break in the night.  Nate will do only the work that makes you crazy or he'll do it all, including domain registration and web hosting.  Your choice.
That's why I signed up for Nate's Website Concierge and web hosting.  He's fast, speaks geek at a level I can understand, and worth every penny.